If your heating or cooling system isn't operating at its best, you need the assistance of Miller's Heating and Air Conditioning. Call our personable team at (757) 623-6600 to schedule an appointment for HVAC services in Newport News, VA.
Newport News Heating, Cooling, Plumbing, & Electrical Services
Newport News, VA, is a beautiful place for travel, education, and gazing at gorgeous views. You can enjoy hiking trails, fishing, museums, sporting, and a variety of other activities. At Miller's Heating and Air Conditioning, we proudly offer HVAC, plumbing, and electrical services to our neighbors in the Newport News area.
We offer affordable prices for many HVAC services, including heating and cooling installation, maintenance, and repair. Our technicians are available 24/7 to address your unexpected emergencies and to assist commercial and residential property owners. Miller's also strives to help our customers save money wherever possible with our coupons and financing options.
Enjoy Warmth All Winter with Our Newport News Heating Services
Even if you only use your heating system a few times a year, it is still critical to perform maintenance and regular repairs. We can service your heat pump, oil furnace, electric furnace, gas furnace, and more.
We're here to help if your systems break down, need replacing, or are acting strange. Our team's truck will arrive at your property with all the right tools and supplies to address a wide range of heating problems.
Heating System Replacements & Installation
Having a heater system during the colder months is essential, and an excellent unit can help. We'll show you all available heating types, brands, models, and options you may
not have ever considered. Additionally, we can explain how a combined heating and cooling system may help you.
Some heating options we can install and offer as replacements include radiant heating, furnaces, and boilers. If your heater is too old and not heating your home, consider scheduling a replacement consultation appointment. Many customers in Virginia enjoy a replacement heating system because new units offer many benefits, such as:
Improving the energy efficiency
Easier maintenance and simple to use
Cutting down on monthly energy costs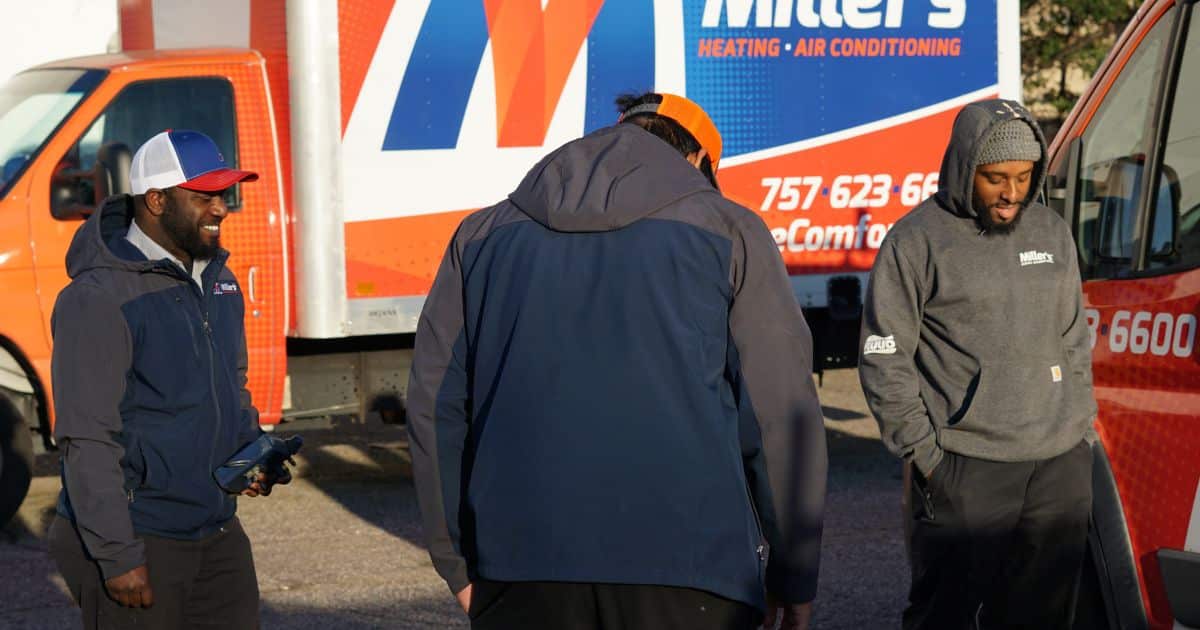 Heater & Boiler Repair in Newport News, VA
While Newport News residents love the comfortable Virginia area, the cold weather in the fall and winter can be difficult to bear. When your heater or boiler requires repairs during cooler temperatures, contact our professionals at Miller's Heating and Air Conditioning. If you have a heat pump that is struggling to operate or have an older heater unable to produce cool air, our technicians will quickly sort out the issue with a courteous demeanor.
Looking for Affordable AC Services? Consider Our Team
Professional cooling services are a necessity during Virginia's hottest weather conditions. Units break down, need replacing, or require inspections to ensure they'll run properly for the season. You can find skilled contractors at Miller's Heating and Air Conditioning in Newport News.
Air Conditioning System Installation & Replacements
Are you looking for top-of-the-line air conditioner installation services? We'll find an energy-efficient and affordable model from an industry-trusted brand for your needs. Whether you have a commercial property or a residential home, we can ensure you have peace of mind and a superior system.
Air Conditioner Repairs
Air conditioners can stop working due to many reasons, such as improper maintenance, faulty parts, electrical problems, old age, and typical wear and tear. Regardless, dealing with stuffy and humid temperatures in your home or business quickly becomes uncomfortable. Our team is here to help you in your time of need and offer a fast, smart, and long-term solution.
Night or day, no one wants to deal with a repair; however, we aim to make the process as stress-free and simple as we can. Let us restore your indoor climate to the most comfortable temperatures and fix your AC unit. We'll answer your questions and offer AC repair services in Newport News, VA, with a smile.
Signs You Need AC Repairs
Catching air conditioner repairs can prevent an expensive or unexpected early replacement. We will do everything in our power to restore your AC unit to the most energy-efficient, effective, and properly functioning state. Some common reasons you might need professional AC repair include:
Frequent cycling on and off
Blowing warm air from the unit
Unexpectedly high energy bills
Unit not turning on
Newport News Electrical Services: Surge Protection, Electrical Panel Upgrades, & Generators
Besides offering top-quality HVAC services, our Miller's Heating and Air Conditioning team has skilled electricians and assists Newport News residents with their electrical needs.
We can install a new generator on your property or repair your existing system when it breaks down. We also provide electrical panel upgrades and surge protection options to preserve your appliances and electronics' lifespans.
Plumbing Services in Newport News, VA, and the Surrounding Areas
It can put a damper on your day if your plumbing system experiences a leak or internal
issue. Fortunately, you can schedule a convenient plumbing emergency service with our experienced plumbers. We also can check your drain lines, sump pumps, and all types of water heaters. Some of our top plumbing services include:
Commercial plumbing
Residential plumbing
Sump pumps
Drain inspections and cleaning
Stationary water heater installation and repairs
Tankless water heater installation and repairs
Contact Miller's Heating and Air Conditioning for All Your Heating & Cooling Needs
We are the top HVAC company in Newport News and the surrounding areas, providing a wide variety of services for AC units, heaters, furnaces, central air systems, and more. If you're searching for installation, repairs, and maintenance, consider the business with 40 years of experience. We treat all of our clients with the utmost respect, kindness, and professionalism and want everyone to experience complete HVAC comfort.
At Miller's Heating and Air Conditioning, we are the team to call when you need fast and reasonably priced air conditioner and heating services. Fill out our contact form, or call us at (757) 623-6600 to learn more about our top-rated HVAC services in Newport News, VA.