If you're searching for reliable and affordable HVAC services in Norfolk, VA, contact Miller's Heating and Air Conditioning. We're ready to help you, so schedule services online or give us a call at (757) 623-6600!
Norfolk Heating, Cooling, Plumbing, & Electrical Services
Norfolk, Virginia, is a beautiful city along the water with a rich history and scenic views. You'll find many shopping centers, restaurants, and job opportunities. Norfolk is an excellent place to live, visit, and work, and our team gladly serves the residents of this diverse Virginia city.
When you need air conditioning or heating services, such as installation, repairs, or maintenance, contact Miller's Heating and Air Conditioning in Norfolk. We have over 40 years of experience providing superior services to the area and skilled technicians to resolve any HVAC problems. While Virginia has favorable weather, having working cooling and heating systems is essential to staying comfortable year-round. 
Experience Cool Air and Comfort with Amazing AC Services
Hot summers or extreme warmth in the spring can quickly become unpleasant without an AC unit. When your air conditioner experiences odd behavior or suddenly stops working, you can count on us for emergency service. We can also help upgrade your existing system, perform annual maintenance, and install new units.
Air Conditioning Installation & Replacement
At Miller's Heating and Air Conditioning, we have a wide variety of air conditioning brands, system types, and models. You'll have plenty of great options and prices to choose from when you book AC installation in Norfolk. Our personable technicians are here to provide flawless installation. While air conditioners last ten to 15 years, you might need a replacement if you notice the following symptoms:
Your AC is completely broken and too old to repair
Your air conditioner is struggling to operate past its lifespan
The model of your unit is out of date and no longer being produced
The SEER rating of your unit is extremely low, or the system is no longer effective
We will always try to repair your air conditioner before presenting replacements as the next step. However, it may be more beneficial to simply replace your old unit rather than perform repairs that aren't serving the system. We will find a replacement that is even better than your old AC system.
Air Conditioning Repair Services
Norfolk residents can receive the best air conditioning repair services when they call Miller's Heating and Air Conditioning. Our technicians do everything in their power to increase the efficiency, longevity, and function of your air conditioner. We arrive at your home or business with our state-of-the-art equipment and tools to complete any repairs you need.
We explain everything we will do to perform your repair. HVAC language can seem complicated, but our staff understands how to discuss your system and our action plan in simple terms. We advise you to call us for repairs as soon as you detect a problem to prevent a premature replacement.
Signs You Need AC Repair
Air conditioners often give off warning signs that something is wrong. You can look for indicators that your AC needs repair and take note of its condition. Contact our team to schedule repair services if you notice any of the following scenarios.
Frost is covering the outside of your AC unit
Your air conditioner only produces warm air
You detect blocked or limited airflow, perhaps from a dirty air filter
Internal components are making loud and unusual noises
Your AC system frequently turns off and turns back on again
Comprehensive Heating Services to Keep You Warm
Our business works on boilers, radiant heating, and more, performing repairs, installations, and repairs. We'll help reduce your expensive monthly energy bills and find ways your system can run better. You're in good hands with Miller's Heating and Air Conditioning!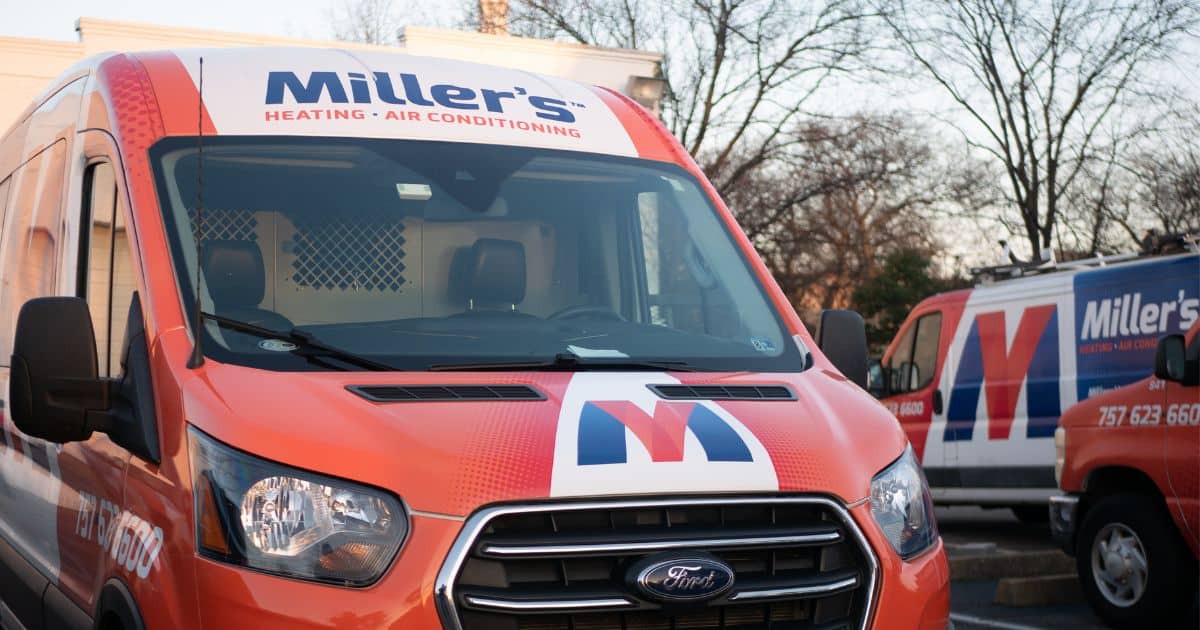 Heating System Installation & Replacements
Some of our HVAC services in Norfolk, VA, include heating installation and replacements. No matter if you have a gas furnace or a heat pump, our technicians can swiftly replace your faulty system or install heating for new construction. We use only the best tools and brands to ensure a long-lasting, effective, and durable heating system for you and your loved ones.
Signs You Need Heating Repair in Norfolk
Heating systems work hard to keep your property warm and comfortable, sometimes without stopping for an extended period. Repairs are critical for maintaining your heater, and should receive professional care as soon as possible. Look for the following signs you need heating repairs, then give us a call:
Your heater produces cold air.
The system creates loud noises or strange odors.
You notice increasingly high energy bills.
Your heating system will not turn on.
Your carbon monoxide detector is going off.
Professional Plumbing Services for the Norfolk Area
Virginia residents rely heavily on their plumbing systems for all activities throughout the day. Showering, cooking, washing dishes, and more all require functioning and non problematic plumbing and pipes. Our team offers numerous plumbing services, including:
Commercial plumbing
Drain cleaning
Plumbing installation and replacements
Plumbing repair
Plumbing maintenance
Tank and tankless water heaters
Sump pump services
Excellent Electrical Services From Norfolk's Trusted Team
Everyone needs a reliable electrical system in their commercial or residential property. We offer the Norfolk community excellent electrical services at affordable prices. You can schedule generator installation and repair, surge protection, and electrical panel upgrade services with our team.
Make Miller's Heating and Air Conditioning Your Go-To Norfolk HVAC Company
Are you looking to improve, repair, maintain, or upgrade your HVAC system with professional assistance? Work with a trusted local business that the community relies on for heating, cooling, electrical, and plumbing services. Our knowledgeable staff can handle jobs of any size, and we make it our mission to find effective solutions to your concerns.
We'll help service your heat pump, furnace, or air conditioner through maintenance, inspections, or repairs. Get in touch with us at Miller's Heating and Air Conditioning and enjoy your best HVAC system yet! Fill out our contact form, or call us at 757-623-6600 to learn more about our top-rated HVAC services in Norfolk, VA.