At Miller's Heating and Air Conditioning, we provide full-service HVAC solutions to residents and businesses in Portsmouth, VA. With over 40 years in business, we've established our reputation by putting honesty and quality craftsmanship first. When you need repairs or replacements on your AC and furnace, call us at (757) 623-6600. We work hard to ensure that your home stays comfortable all year round.
Why Choose Miller's Heating and Air Conditioning?
As a trusted, local Portsmouth HVAC company, you can count on us for:
Great service: Our team goes above and beyond to provide exceptional service every time.
Trained technicians: All our technicians are fully licensed and insured. We only hire background-checked technicians who keep up with the latest heating and cooling advancements.
Urgent response: We provide fast appointments and 24/7 emergency repair services when needed. Our team aims to make your air conditioner or heater operational quickly.
Stay Comfortable with Our AC Repair in Portsmouth, Virginia
A broken air conditioner can become a major inconvenience. Since an air conditioner is vital to your comfort, our technicians can perform quick air conditioner repairs. When your AC stops working in Portsmouth, Miller's Heating and Air Conditioning is the air conditioning experts you need to call. We can repair all brands and models of air conditioners. Our technicians will arrive in trucks fully stocked with spare parts used by most air conditioners.
These are the common signs that your AC needs repair:
Lack of cool air
AC turning on and off
Water leaks around the unit
Bad odors
Unusual sounds
Emergency AC Repair Services
At Miller's Heating and Air Conditioning, we provide 24/7 emergency air conditioning repair. We train our technicians and provide them with the right equipment for air conditioner repair. Our technicians will perform a thorough diagnosis and assessment to restore cool air to your home.
If your air conditioner is beyond repair, we can recommend cost-effective replacement options. We will also check and replace your air filters to improve indoor air quality. Our seasoned AC repair technicians in Portsmouth guarantee courteous and excellent customer service.
Reliable Air Conditioning Replacement in Portsmouth, VA
Air conditioners are complex machines that naturally wear out over time. As your system ages, you will require an AC replacement for your Portsmouth home. Our technicians can install a new air conditioning system and remove your old one. AC repair can sometimes extend the life of your air conditioner. However, replacing an outdated AC can be less expensive than repairing it.
Consider an air conditioning replacement if any of the following apply to your AC:
Older than ten years
Uses R22 freon
Requires frequent repairs
Results in high utility bills
Cools your home unevenly
What to Expect When Replacing Your Air Conditioner
Our technicians will make the process of replacing your air conditioner as hassle-free as possible. We will perform a load calculation to determine the right size air conditioner for your home. Our technicians can work around your schedule to minimize any disruptions. A modern air conditioning system offers many benefits, including energy savings, quieter operation, and a warranty. Our installers have years of experience with HVAC systems such as heat pumps, ductless systems, and central air conditioning. After replacement, we will ensure that your new air conditioning system is functioning properly before we go.
Stay Warm With Our Expert Furnace Repair in Portsmouth, Virginia
When your furnace unexpectedly stops working, request HVAC services in Portsmouth, Virginia, from Miller's Heating and Air Conditioning. We provide emergency furnace repair services for Portsmouth homes. Our technicians will discover the problem and give you options before starting any repairs.
We have experience working with natural gas, oil, and electric furnaces. Our technicians can accurately diagnose and resolve most furnace issues in one visit. We will repair your furnace and ensure that your system provides reliable heat.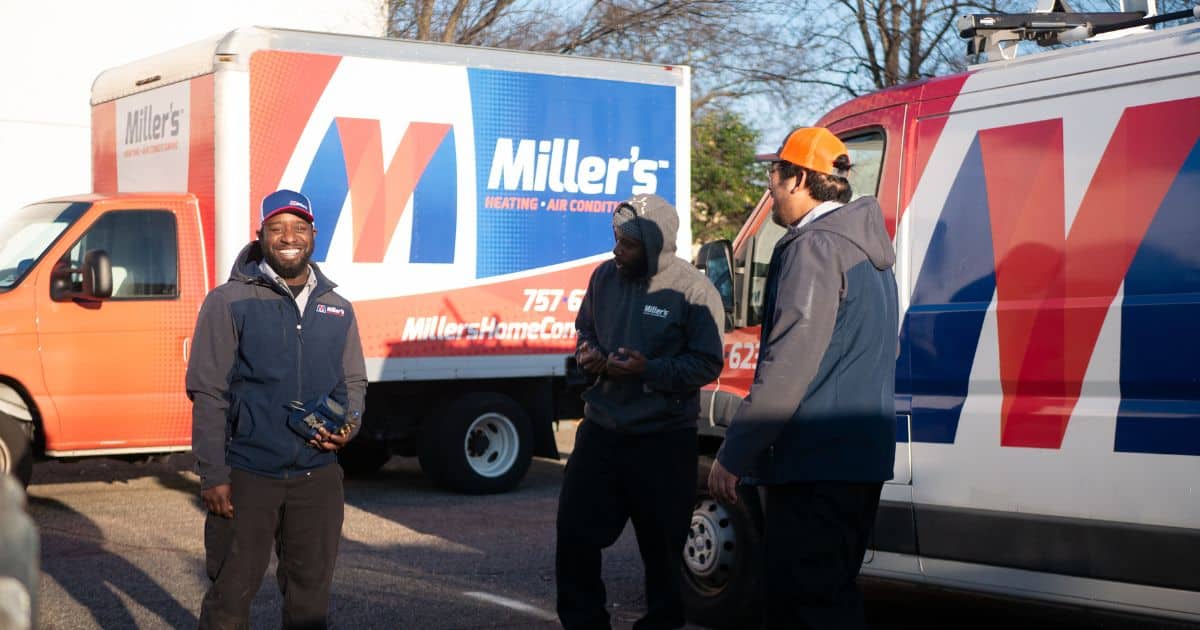 When to Call Miller's for Furnace Repair
One broken component in a furnace can affect the entire system. Most homeowners will notice signs when their furnace requires repair, such as strange noises, water leaks, and cold air blowing. A timely furnace repair can prevent other components from sustaining damage. We can assist you with furnace repairs for the following reasons:
No warm air
Pilot light won't ignite
Clogged air filters
Gas leaks
Loud noises
If you have trouble with your furnace, schedule an appointment with us. The easiest way to avoid costly furnace repairs is to address problems early on with regular furnace tune-ups.
Trusted Furnace Replacement in Portsmouth, Virginia
Is it time to replace your furnace? Our technicians can recommend a furnace based on your Portsmouth home's heating requirements. New furnaces have many benefits, such as more energy efficiency and a quiet, variable-speed design. Furnaces that operate at variable speeds can distribute heat evenly throughout your home. New high-efficiency furnaces can save money on monthly utility bills and enhance comfort, with Annual Fuel Utilization Efficiency (AFUE) ratings of 94 to 98%.
When To Replace Your Furnace
Most furnaces have a lifespan of 10 to 15 years. Consider replacement options if your furnace keeps breaking down or requires costly repairs.
Here are some of the signs to replace your furnace:
Not heating
Strange noises
Increase in utility hills
Constant breakdowns
Our technicians can help you choose the right size furnace for your home and professionally install your new furnace. We recommend scheduling regular furnace tune-ups to maintain the system's efficiency.
Work with the HVAC Company Portsmouth Trusts
At Miller's Heating and Air Conditioning, we provide dependable HVAC services in Portsmouth, Virginia. Our heating and cooling contractors will ensure your complete satisfaction. We have over 40 years of experience with heating and air conditioning systems.
Contact Miller's Heating and Air Conditioning in Portsmouth, VA, today to make an appointment for HVAC services. Call us at (757) 623-6600.